Kotobuki's Original_13_The Bogen Downhill Girl with white winds.___2008.01.10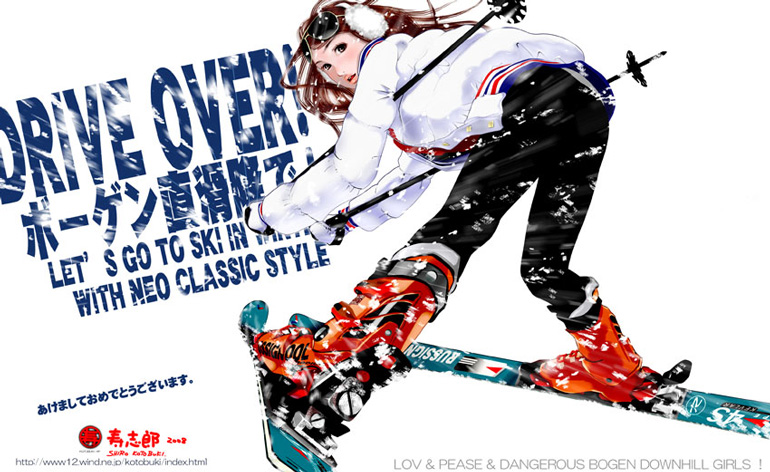 ----HAPPY NEW YEAR! 2008----
SKI ; ROSSIGNOL 4S REPRICA TPI2+ AXIUM 120 TPI2 (is made reprica model by official this 07-08 season!
BOOTS : ROSSIGNOL RADICAL PRO CARBON
BINDINGS : SALOMON 914 TIS20 B75
WEAR : Liberty Bell down jacket (have been made Reprica model by JP company recently!
and sunglass is must be "Ray-Ban Aviator Top Gun/Tom Cruise model " and you should put Ear warmer!

That's "NEO CLASSIC STYLE " fusioning 80-90's ski fashion and new mode and is renewed,
I wish to recommend this style ,and let's go ski!

"BOGEN DOWNHILL"is terrible technique that is popular when we were kids,pupil.
because, we must speed downhill faster from mountain's top with beginner tech,
and that we have no parallel turn or wedeln yet !
It's most terrible tech,and it need guts and push,
and if you are off guard, you must crush and dead at once, it's tech is never invited to layman...
but, downhill, Mogul , a cup of hot coffee/beer at top of hills, ski is wonderfull!
see you next.